Managing Wish Lists
Can I add a description to my wish list?
You can add a description to your wish list by following these steps:
On your wish list, click the blue cog icon above the list's title
Tap "Edit Wish List"
Enter text in the "Description" field
Tap "Save Changes" You can always repeat the above steps to edit your wish list in the future.
Editing a Wish List
How to change your wish list's name, update privacy settings, add an event date, and add a description.
Need to change or add some information on your Gift Hero Wish List? You can easily change your list's name, change the privacy settings, attach an event date (like for birthdays or holidays), and add a description for your list.
To edit the wish list:
Click the blue cog icon above the list's title
Choose "Edit Wish List" from the menu
Make any changes/updates
Click the "Save Changes" button to save your updated information or "Cancel" to not save any new changes.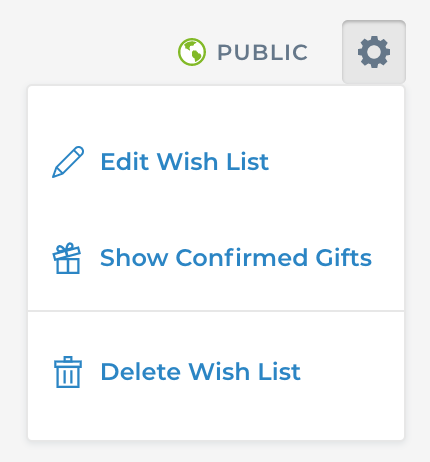 How do I create a wish list?
Tap on the create a wish list button, give your list a name, select public or private, and save. Then the fun begins… You can start adding gifts!
How many wish lists can I have?
You can have as many lists as you'd like. The more the merrier!
Wish List Privacy
Learn about the difference between Public and Private Link settings on your wish lists and how to change the settings.
Public vs. Private Link
Public
A Public Wish List can be viewed by anyone, making it more likely for you to receive gifts.
Private Link
A Private Link Wish List is visible only to those with whom you share the link to your list.
Public and Private Link lists can be viewed by anyone who has the URL, whether they are logged in to Gift Hero or not.
Wish lists set to Private Link will never appear on your profile page or in search results.
How to Change Your Wish List's Privacy Settings
Logged in to your Gift Hero account, go to the wish list where you would like to change the privacy settings
Tap the blue "List Options" button under the list's title
Tap "Edit Wish List"
Choose either the "Public" or "Private Link" button to change the privacy setting
Tap the "Save Change" button

How do I sign up?
It's simple. Start by clicking or tapping "sign up" and follow the prompts. We like to keep things easy, so we only ask for a little bit of your information to get started, you can add more to your profile later if you choose to.
I need to build a list for an organization, how do I do that?
You may add an organization to your personal profile and build a list for that group. Once an organization is added to your profile, the name of the organization will be searchable in the Find Friends section.
Schools, charities, and similar organizations should email [email protected] to have their profile verified.
Should I add a date to my wish list?
We say go for it! Adding a date in the edit section of your wish list is helpful if you'd like to receive reminders that the event is approaching, we will let your Gift Hero friends know as well. And don't worry, once that date passes, your list will remain as is. Choosing not to add a date will simply exclude you and your Gift Hero friends from receiving updates about the approaching date.
What is Inbox?
Now you have the power to simply copy the link of an item you like and text the link to us, saving any gift to your Inbox.
Inbox is for all the items you have added by texting the link to the gifts you want to Gift Hero. We recommend distributing each of these gifts to other wish lists since items in your Inbox are visible only to you.
We won't use your number for marketing purposes or share it with anyone. It will only be used to save items to your Inbox.
We also have a mobile app that makes it easy to save gifts to your lists.