Sharing and Connecting
How do people know where to send my gifts?
Is there a place where I can provide my shipping address so gifts can be delivered to me?
With privacy in mind, we don't provide a way for you to enter a shipping address on your account or wish lists.
How do I find someone or an organization on Gift Hero?
Learn how Find Friends works
Go to the Find Friends page. You can search for someone by entering their name, email address, or the name of their organization.
If you tap "Follow" on any user, you'll be able to find them in the future at Friends I Am Following
Exclude yourself from Find Friends search results
If you do not want people to be able to search for you on the Find Friends page, go to Account Settings and select "Don't Include me in Find Friends"
How do I share a list?
When you are looking at a specific list, there is a Share button under the list title. Click or tap the share button to see all the options; You can share on Facebook, Twitter, send an Email with the link embedded, or choose Copy Link, copying it to your clipboard as a link to your list.
Choosing one of these options is the only way to share a private list.
Can I share just one item?
Yes, indeed. There are two places where you can share a single gift:
When you are looking at a list as a whole, each gift has an arrow icon and Share button in the bottom right corner.
The second place is when you are viewing the gift's information, the same arrow icon and Share button is at the bottom.
How do I make sure others know an event is coming up?
We recommend adding a date to your wish list that corresponds with that event. This can be done in the Edit section of a wish list. Friends that follow you on Gift Hero will receive a notice 7 days and 1 day prior to the event. They may have opted out of receiving email reminders, so it's always a good idea to share a link to your list on social media or by email.
Can I share gifts or lists with people who aren't on Gift Hero?
You can and you should! Share a list with anyone, even non—Gift Hero account holders can make a purchase on your behalf without having to sign up. However, they will not be able to mark that gift as purchased. For this reason, we do recommend that they sign up. It truly is the more the merrier on Gift Hero!
How does user blocking work?
Gift Hero is all about sharing but sometimes you may come across a user who you do not want to interact with. Whatever your reasons, you can block any user when viewing their profile or user card.
How do I block someone?
You can block a user from any user card or from the three-dot menu on their profile. See the screenshot below.
You may unblock a user by visiting Advanced Follower Options under your profile.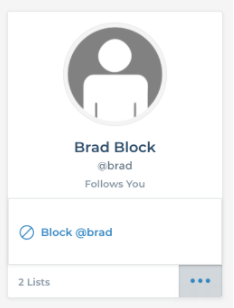 What happens when I block someone?
When you block a user (or when they block you), a few things happen:
You'll no longer be able to view each other when logged in to Gift Hero. You won't be able to view each other's lists (public and private link) and the gifts within those lists.
You will no longer be able to follow each other.
You won't be able to search for each other in Find Friends.
Any Bookmarks they have of your lists/items will be deleted and any of your bookmarks of their lists/items wil be deleted.
Any Confirmed Gifts remain in place. You can still see the names of the blocked user on those items and vice versa.
More on this feature
User blocking is meant to give you some control if another user becomes a nuisance. It will not guarantee privacy. It's important to understand that any logged out user can still see your Public wish lists or Private Link wish lists (if they have the URL).
Need more help?
We're here for you! Click the blue chat icon in the lower-right of any Gift Hero page to contact Gift Hero support or you can email us at [email protected]